What Kind of Dad is He? Father's Day Gift Guide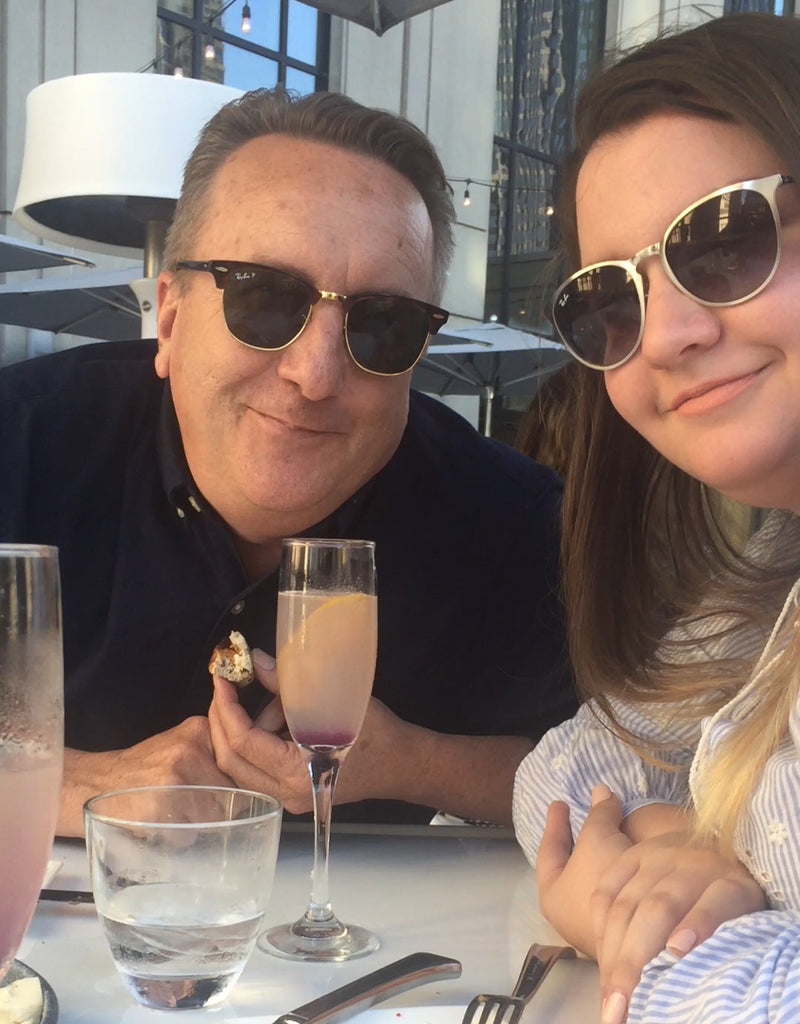 I've always loved gift-giving. Don't get me wrong I don't find it easy, nor do I find it enjoyable when I'm looking for something last minute. I am one of those people that finds something usually when I'm looking for things for myself. I try to be on the lookout for the perfect gifts all year round. The ideal gift for me fits the recipient's personality, and if I can tie in a funny memory or something truly sentimental, then you have won the game (or so I think…).

For the man who either taught you how to play catch or woke you up way too early to go fishing at the crack of dawn, what do you give him? Maybe he's the guy who taught you Bob Dylan was a better singer than the new hipster music we listen to. Perhaps he's the man who taught you poker one Saturday with his buddies and let you play a few hands for him. Regardless of the man your father is, we have a few gifts you might want to get Dad to show him how much you care.

Dive Mask
I heard it best on WXRT 93.1 radio when the DJ said: "every year, I have to go back to the ocean to regather myself." My Dad is the same way. He grew up by the Gulf of Mexico and is a natural tuna who needs to sea the water - pun intended. As the years have gone on, the visits have become few and far between. This piece is a classic diver mask painted in patina green with a metallic silver topcoat. When distressed the patina green seeps through the silver giving it a realistic aged feel. It can be made for indoor and outdoor use, so if your Dad is a real old fashion diver and needs another accessory for his collection in the man cave inside or perhaps hung on the shed indicating the location for all his scuba diving equipment outside, we have it covered.

Sailors Love Token
As a kid, your Dad must have told you about his old days in the Navy. About how he had to wrestle a sea monster to save the ship from sinking or spent many a night working the late shift telling you ghost stories about the old submarine's engine room. This piece is reminiscent of those bygone days. Initially inspired by an old tattoo on the upper bicep of a navy sailor. Everything was hand-drawn, so nothing is too perfectly symmetrical. It depicts one of the best representations of nautical settings, the anchor placed on a background of turbulent water teeming with whales, ships, and dangerous sea monsters. Above the water is a dreamy night sky filled with stars and oncoming clouds. This large nautical wall art piece is for the tattoo or navy Dad who loves the detail or remembering the old days.

For the Music Dad -- Forever Young Art Print
My Dad played saxophone in high school. He told me about the first time he heard Elton John as a kid playing on a record in his room listening with his friends. We ride in the car, and he can name any song that comes on the radio ( minus "that new age hippy hop" -- put it this way, he doesn't know who the Jonas brothers are, and he is perfectly okay with that.) This piece features a famous quote from the song "Forever Young" by Bob Dylan. Originally written as a lullaby for his eldest son, it tells of all the hopes a parent has for their child as they grow up. A very sentimental piece as it shows the recipient, you wish the best for them. I see it as a thank you piece to your father, who loves music.

Playing Card Symbols Wall Decor Set
One of my favorite things as a kid was playing cards with my parents. On a summer night once the sun was setting the final rays of lights were stretching over the land entering into dusk. It would still be warm enough to sit on the porch with icy lemonade. The four of us would play Rummy, only allowing runs of consecutive cards, and never using an ace for a 1,2,3. These are beautiful sets to place in a game room for the poker; Dad who kicks your butt at cards every time.

Carved Swordfish
Did your Dad ever wake you at the crack of dawn for a fishing trip? Getting on the road while it is still dark and finally reaching the water by morning watching the sunrise as the boat trolls away from the dock. You remember the first time you saw the fish jumped out of the water? For the Dad that hasn't caught the big one yet…this is excellent for your Dad who loves the big game fishing. The piece has a handmade wood carved style. With deep long gouges to create the swordfish. Running your hand over it, you can feel the rough texture of the wooden surface the Atlantic navy surrounding the fish and the smooth carving of each individual stroke. It's one of those pieces that Dad will love to hang in his office until finally, he catches the big one!

Bait Fish - Largemouth Bass
Or maybe your Dad is a freshwater man, standing in a boat for hours patiently waiting for the perfect catch. And any freshwater guy, Largemouth Bass is the king of the freshwater fish. Let me recommend two pieces just for him. Bait Fish looks like he came off the side of a fishing lodge. Deep green in color makes for the perfect lake house inspiration.

Open Season Sign Largemouth Bass
The Open Season Sign featuring a nice largemouth bass, jump up out of the water is an excellent complimentary piece for reminding Dad of the next fishing trip. We can even add the date of your local open season to make it unique just for him!

Whomever your Father is, you can always find a perfect gift for Dad here at Haven America. Father's day is coming fast, so hurry while there is still time! We are happy to customize any items to help make Dad's day special, just let us know.

Tatham
Gregory Morris