Haven juried into the Ogden Museum's Lousiana Contemporary 2022 Exhibit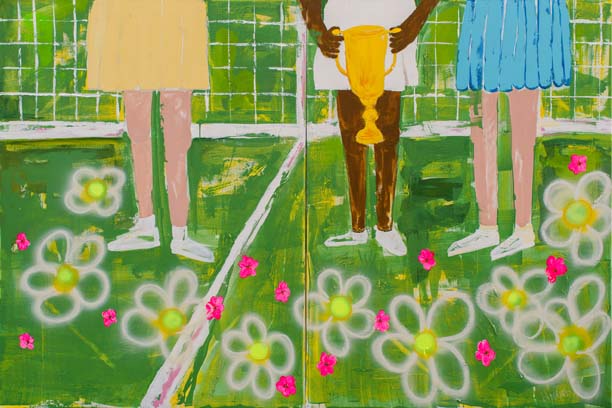 Ogden Museum, New Orleans—You've probably noticed our bright new banner here on the Haven America web site with three tennis players greeting you when you land on our homepage. It's bold, it's different and it's announcing an accomplishment that we are very proud of!—Susan's acrylic painting called Tennis Court was selected as one of the works that are part of the show at the Ogden Museum starting on August 6, 2022 through January 8, 2023.
Tennis Court is one painting from her new series that she's been working on this spring and summer that represents a shift from all of the various styles that she worked on while managing Gallery Haven in the French Quarter. The new focus of Tennis Court and the like is about her memories of childhood growing up in Chicago and all of the experiences that have stuck with her all of these years. There are other paintings in the series that continue the tennis theme along with other subjects like picnicking, swimming and horseback riding.
Tennis Court is an acrylic, oil stick and spray paint on stretched canvas work of art and measures 72"x48". It was one of 102 works chosen from 1200 entries submitted. There are 42 artists selected including our very own Susan Havens-Morris. This painting also marks a new shift in Havens business plans. We made the decision to close Gallery Haven in the French Quarter in June after operating it for one year. With the current economic climate and the aftershocks of the pandemic we are not seeing a daily result in walk-in traffic to sustain the gallery. So, we are now shifting the fine art arm of our business from a daily gallery to national fine art shows. Susan exhibited in Dallas at the Dallas Market where she had a booth in the High Design area and was met with a great response from interested and qualified buyers.
We invite everyone to please come and see Tennis Court and all of the other great Southern works on display at the Ogden Museum. On August 6, there will be two tours (11am and 2pm) given by the juror Valerie Cassel Oliver from Sydney and Frances Lewis Family Curator of Modern and Contemporary Art at the Virginia Museum of Fine Arts. Then, at 7pm, the Grand Opening will be held in the gallery as well. This event just happens to be on the same night as White Linen too so there will be a lot of great food, drink and things to see all around the Julia Street Arts District and the Ogden that evening as well.
We are working on promotional items that will feature Tennis Court that will be available at the Ogden's Gift Shop during the show season and they will be available here soon on our web site. Pre-orders are being taken now for Coffee Mugs, T-Shirts and Artist Signed Prints. Please send us an email if you would like to pre-order or be notified when these are available on line.