Whale Wall Art Grew Along with Haven America Transforming Beach and Coastal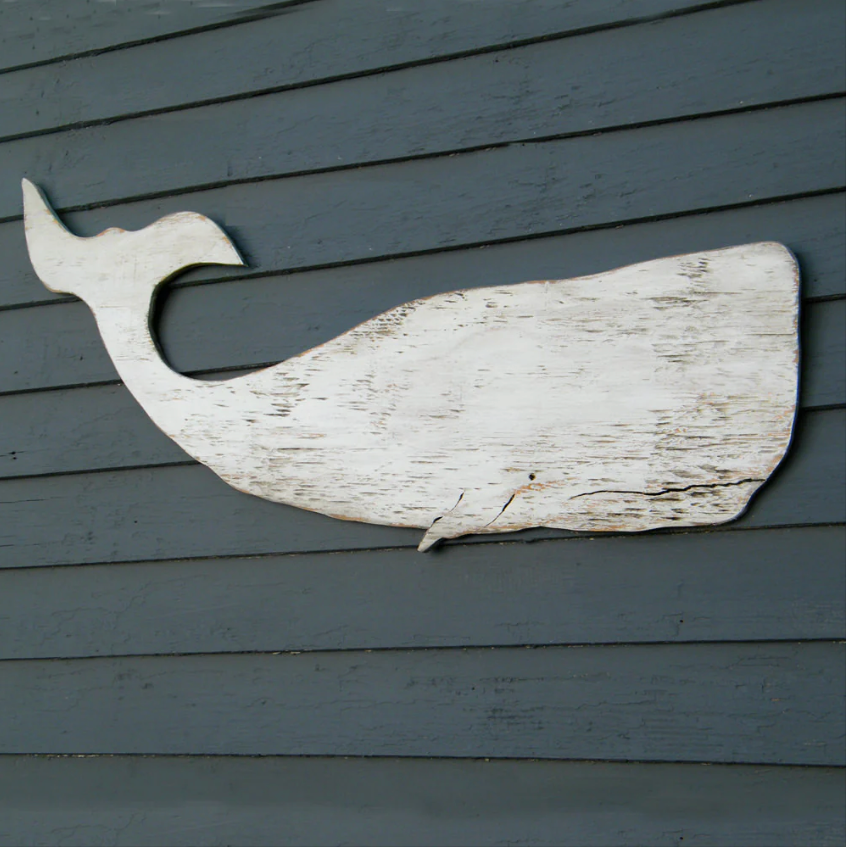 Whale Wall Art has been a cornerstone of the foundation that is Haven America since Gregory and Susan started making signs on a farmhouse front porch in North Carolina back in 2011.
Brief History
If you're new, here's a brief history of Haven America, AKA Slippin' Southern. It started with the "Hey y'all." Gregory and Susan Morris had 25+ years in graphic design and art direction. After wanting a change of pace, they started making Southern saying in 2011 while renovating a historic farmhouse in North Carolina. Gregory, the native Flordia Southerner, awoken his roots and began cutting out classic southern sayings from southern pine plywood. 
Everything is done by hand, from drawing the design to sanding, painting, and distressing it to give it a perfectly rustic look. No two signs are alike; each sign's unique wood grain character tells a story artisans cannot replicate. Some of the first sayings were, "Hey y'all, darlin', big daddy, and bless your heart." For 13 years, they have expanded beyond their southern roots to encompass massive beach and coastal sections and everyday wall art. 
Sure, but how has our iconic 60" blue wooden sperm whale wall art become integral to Haven America today? It started with the request to make more shapes. Once our third, fourth, and fifth clients asked if we made more rustic wall art, a need for more items was fast approaching. With that request, Susan drew inspiration from that need through already well know iconic images; weathervanes.
Origin of Moby Whale Wall Art
Weathervanes have been pointing in the direction of the wind since 139 BC, some of the first recorded being placed in China and known as (xiang feng wu) or wind indicating bird. The direction of the bird's beak indicated the direction the wind was blowing. The classic image usually depicted for this task was a Rooster. Among the roosters were also horses, whales, and crabs. Gregory drew each of the designs from vintage weathervane styles and made them into Haven America's signature wall art piece you see today.
From there, the need for whale art exploded. Now remember, in 2011, rustic and southern chic was starting to become a decorating trend, so for home furnishings and wall art to feature a rustic and weathered finish was hot. The fact that clients, especially on the East Coast, can finally display our Moby Sperm Whale wall art design based on this classic whale shape became popular. 
Our first Moby Whale Art measured at the cute and humble size of 16"w x 8"h x .5"d. At the time, it was huge, size-wise. Especially for people who had been making dainty script southern word signs measuring, at max, 12" wide. (The original crab wooden wall decor was equally large and intricate to paint. But that's a story for another time, though.)
Color customizability was the other fabulous design element of the Whale and all our products. You can order the pieces in realistic whale colors like white or grey, but you could also order blue, pink, red, yellow, and metallic colors! These weren't just store-bought colors like true red or off-white. The original 24 colors were hand mixed, color-matched, and made special for us by our local paint supplier (trade secret, sorry folks). To this day, our paint vendor customizes our colors based on the matches from 13 years ago. 
You can still see our first sperm whale in the link below. The whale paint color is Coastal Blue. He rests on the shelf of Greg and Susan's dining-room fireplace mantel and is sunbathing on the deck. Looking at it now, I never noticed it has a little more dip in the right fin on the tail than any other moby whale we make. Huh... 
https://havenamerica.com/products/moby-blue-sperm-whale-fish-ocean-nautical-decor-coastal-beach-decor?_pos=2&_sid=571b08ee7&_ss=r
Speaking of other Moby Whales, we quickly exceeded our 16" size limit. Very soon, clients requested larger versions of the Whale. Our two newest sizes were a 23" wide and a whopping 41" wide swimming whale. If we had through the small one was large, the 41" was a mammoth of a piece. Hands down, one of the most gorgeous photos of the moby whale was the 41" wide white whale. Greg and Susan took the Moby Whale Wall Art photos outside our dark grey North Carolina house.
On a fun tangent, back in the day, we shipped all wooden decor in "Frankenstein boxes." Or so that was how the local post office viewed it. This was when priority mailboxes were the only box to get at the post office. So we would ship 41" whales in a priority mailbox cardboard. The Cardboard was skillfully designed and composed of 2-3 boxes masterfully taped together with priority mail tape. Let's say the local post office knew my dad the second we walked in to ship 5-8 packages. 
New Whales of the Haven America
Some of our favorite and most popular beach and coastal items have spawned from clients' requests. But all the designs come from Gregory and Susan's drawings and illustrations. Our beach and coastal collections differ due to their love of the ocean and coastal living. Shortly after getting married, Greg and Susan took a trip to Nantucket Island, which they found so charming; some 30 years later, they created our famous Nantucket Dry Goods Whale Sign. It is classic and has that antique shingle trade sign that would be so covenanted.
From here, the designs of whale wall art expand to our Classic Folk Whale. All love the Whale's signature lower jaw teeth and side fanning tail. Today, we produce at least 6 Folk Whales a week, and we love receiving clients' happy photos of the folk whale residing over dining tables and doorways.
Additionally, these pivotal Whales inspired terrific pieces like the humpback whale, The Melville Moby, Whale with Lighthouse, Whale Towel Hook, Whale Tail Wall Art, Whale Log, and Pallet Whale.
Melville Moby White Whale Wall Art and Whale with Lighthouse are our most painterly whale pieces. Both feature a rustic reclaimed Lath frame and the Whale swimming across the ocean waves. If you can't tell, Moby Dick's White Whale constantly fascinates us. Since Moby Dick is a constant Muse, we even dedicated several series strictly to the famous book quotes. (Check out the Moby Dick Quote Blog here.)
I hope you had a whale of a time! 
Blog By: Tatham Havens-Morris
Tatham Havens-Morris